Having Questions? Leave a comment and we will attend to it. Share this post to your friends on social media by using the share buttons below.
Certain guidelines must be followed when you are writing a SIWES industrial training report. With these guidelines I will show you, you will certainly be on your way to getting an A grade in your Industrial Training just as I did during my time.
Heads up! Attached to this post is a SIWES Industrial Training report format and a sample report to help you with the necessary guidelines on how to write an industrial training report.
ABOUT SIWES
Student Industrial Work Experience Scheme (SIWES) is an essential criterion in a student's training program in tertiary institutions. This experience usually involves three to six or twelve months as the case may be of intensive training in an industry of the student's choice. It was established in 1973 by the Industrial Training Fund (ITF)
In my institution, for example, it is a 6-month training program that must be defended and a comprehensive report must be written on knowledge gained and its practical relevance.
SOME AIMS AND OBJECTIVES OF Student Industrial Work Experience Scheme (SIWES)
Expose students to work methods and techniques in handling equipment that may not be available in the university.
To provide the student with an opportunity to apply the theory in a real work situation, thereby bridging the gap between university work and actual work experience.
To provide an avenue for the student in Nigerian universities to acquire industrial training skills and experience in their course of study.
Make the transition from the university to the world of work and this enhances student contact for better job placement
To enlist and strengthen employer's involvement in the entry process of preparing university graduates for employment in industries.
My Info Connect has you covered we are ready to assist you on how to write an Industrial Training report.
So be rest assured of a grade A!
ALSO READ: How to Improve your CGPA in Final Year

Scientifically Proven Ways to Remember Everything You Read

5 Life Changing Opportunities you should NEVER Miss in the University
You must consider these things when writing an Industrial Training Report:
References
Preliminary Information
Technical report
Conclusion on knowledge gained and relevance.
Departments this SIWES Report will work for
This SIWES industrial training report format will work perfectly for the following university departments. Please do well to follow the format outlined below:
Mechanical Engineering Department SIWES
Computer Engineering Department SIWES
Petroleum Engineering Department SIWES
Chemical Engineering Department SIWES
Agricultural Engineering Department SIWES
Structural Engineering Department SIWES
Civil Engineering Department SIWES
Computer Science Department SIWES
SIWES Industrial Training Report Format
SECTION 1: REPORT FORMAT AND PRESENTATION
Page: Page should be of A4 size
Font: times new roman, 12
Spacing: the body of the report should have 1.5 line spacing
Paragraphs and sections: extra blank line before and after every section and subsection. Paragraphs must be separated by a blank line. The paragraph must be justified
Headings & Subheading: All subheadings and their subheading should be properly formatted.
Punctuation, spelling and grammar check. Use correct punctuation marks, spelling and grammar should be accurate
Page Numbering: all pages before chapter one should be given in roman numerals. The first

 

page of chapter one should start with 1.
Figures and table labelling
Spiral-bound
SECTION 2: PRELIMINARY PAGES
Letter of Certification
Abstract/Executive Summary (it summarizes the body of the report, outlining its scope, purpose and major findings, highlighting the key conclusions and recommendations)
List of Tables and Figures 1mk
Abbreviations and keywords
SECTION 3: CHAPTER ONE – INTRODUCTION
Brief introduction about the SIWES, aims and objectives
1.1 Organisation history: this section should give a brief history of the Organisation, nature of the Organisation, products or services of the Organisation, business volume, number of employees etc)
Organogram and responsibilities: this shows the pyramid of the Organisation and relative responsibilities of major positions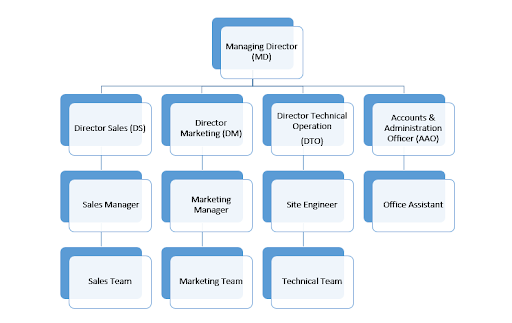 Summary of the Intern's role/responsibilities and activities: this section should highlight the intern's role, specific schedule and type of work done, when and how the intern fits into the overall organisation structure.
A basic summary of exactly what the intern did, for whom, and what types, as well as levels of skills were required.
SECTION 4: CHAPTER TWO – DETAILED INTERN'S ROLE/RESPONSIBILITIES AND DAILY ACTIVITIES
This section gives a detailed account of the day-to-day activities of the workplace. This section is descriptive and factual, saving evaluation and analysis for the subsequent section.
Intern's role/responsibilities and activities: list and describes in details all activities throughout the six months internship.
This may be chronological, describing what the student did in the order it was done or
By skill group, describing, for example, the planning jobs, then the design jobs and finally the execution jobs.
Or the order of importance, beginning with the lower level tasks and working toward the more challenging and larger projects.
 It is important to highlight Intern's/Student's involvement
SECTION 5: CHAPTER THREE – DISCUSSION, ANALYSIS AND EVALUATION
Analyze experience gained and what he learnt during the internship (each job, section or department) to reflect on professional identity and practice in workplaces, as well as the nature and quality of job or service.
Analysis and description of tools and equipment used
Analyze the problems encountered and how it was solved.
SECTION 6: CHAPTER FOUR – CONCLUSION, LIMITATIONS AND RECOMMENDATIONS 
Conclusion: Findings of the intern.
Limitations: identify limitations in the utilization of the instruments and tools, and procedures for carrying out the jobs. Also in the course of the Internship.
Recommendations: Recommendations based on the limitations.
REFERENCES
Your references must be arranged in alphabetical order. Referencing is a bibliographic listing of information sources cited or consulted at the end of a research.
Make use of the American Psychological Association, APA Style of Referencing to write your report. Your citations must be consistent and in standard scientific format
LOGBOOK
In filling your day to day activities, you should report the tasks carried out that day e.g. inspection and repair of faulty equipment. You can also state the name of the machine in that case. You should try not to make it personal by always starting with "I".

What your Logbook should look like

For days when it seems you might not have work you should try to research on something at least learn something new so that in your report you can just fill "research on………….. ".
Lastly, start filling your logbook and get it signed as this will also increase your marks when supervisors come to your place of attachment.
If you are having any issues writing your SIWES industrial training Report, let me know in the comment section and drop your contact details.
SEE ALSO: 
Writing Your Industrial Training Report.
In preparing your report, there are lists of compulsory headers and patterns that must be properly addressed.
A standard Industrial Training report consists of FOUR CHAPTERS. Let's go-ahead to talk about each chapter and show you how to write an industrial training report step by step.
NOTE: YOU MUST INCLUDE Declaration, Acknowledgements, Summary, Tables and Figures list in your IT report format.
CHAPTER ONE
In Chapter 1, you are expected to produce an introductory message to your report. Start by talking about the Student Industrial Work Experience Scheme, its aim and objectives. This is usually a compulsory part of report writing. Thereafter, talk about your organization's history, the nature of the organization, number of employees, type of business or service rendered, etc. Basically, say what you know about the company in which you worked. Also, outline the organogram of the company and the responsibilities of those in major positions.
CHAPTER TWO
Chapter 2 gives a clear insight into the daily activities of the intern in the organization. Describe intensively all the activities you were engaged in throughout the six months internship. You can do this in the order of how you were engaged weekly or monthly. You could also rank them in order of their importance, from the lower task to the high challenging tasks. In this Chapter, it is important to highlight your involvement.
10 Hot Scholarships for Engineering Students to Study Abroad in 2020
CHAPTER THREE
Highlight and analyze the experience gained from each department you worked with and what you learned personally during that procedure. Also, analyse and discuss equipment and tools used to complete tasks. Lastly, talk about problems encountered during jobs and how these problems were solved daily.
CHAPTER FOUR
Now, talk about your findings, identify limitations in the utilization of tools when carrying out tasks. Also, state your recommendations based on these limitations.
I.T Report Defence Secrets to getting a Good Grade
I.T DEFENCE & FULL DETAILS.
It is no longer news that this I.T is a 6credit load. Industrial Training will help scholars & dullards & at the same time cripple scholars & the weak ones in the class.
It is a game for smart ones that did the I.T & even the smart ones that ended up not doing the I.T.
"Don't be too confident that because you did your I.T in a reputable company. You also have to know how to write an Industrial Training report.
So it leads to a breakdown of the marking scheme
SUPERVISION – 20MRKS LOGBOOK – 20MRKS REPORT- 40MRKS DEFENSE: 20MRKS (DRESSING-5, PRESENTATION – 5MRKS QUESTION & ANSWER -10MRKS).
SEE ALSO: 
Let's start the analysis of the marks on 'how to write industrial training report'
Firstly, Supervision – Most of you guys might take this supervision for granted by not being supervised. If you're not supervised due to distance.
The arrangement will be made.
When you guys resume.
You will go to the Ubit office. Of which they will tell you guys to come.
They will tell you to call your supervisor & they will ask the supervisor some questions about you.
Please Do well to inform your supervisor prior to that time ✊🏻. That he will be called from school. Make your supervisor no cast you.
LOGBOOK- Hmm 20mrks.
Sweet as it seems. But difficult to get it complete.
That logbook & the Report are like baes😍. I will explain.
Make sure your logbook is filled with a detailed drawing. Even if you do not do something sensible, try & draw full am.
They must see drawing. Hustle your marks from the lowest point to the point of the unreachable. Beg your coursemates or even friends to draw for you.
So u can get that mark.
Now🔥🔥🔥🔥🔥🔥
The real fire, the REPORT.
Furthermore, the report follows a special dynamics which I will explain.
Pickup your first prayer point from here. Your report should not fall into the wrong hands. Prior to your defense.
You will all submit the logbook, the report & the presentation slide together.
When you all submit.
The IT coordinator will share this report.
Across to all senior & junior lecturers for them to access your report & score you.
Those lecturers will access your logbook coupled with your report.
You must put in your best. To give a well-detailed report that tallies with your logbook.
You might not be good at presentation. But let your report be highly reasonable.
Let your report be filled with detailed information. Make sure you snap pictures.
During the course of your I.T of you on the job and Put it inside your report. It shows the originality of your I.T report. It shows you participated. Don't just go Online & be putting google pictures only.
Pack many pictures of you.
On the job. They believe anyone can just go online & pick a report.
When marking your report, Make sure your report is highly sensible.
Now,💥 let's talk about your defense.
As I said earlier, Don't let any mark go down. Get everything you want to get. It's a 6credit load.
First & Foremost: Dressing
If you don't have a suit. Go & borrow. Even if you don't have anything upstairs. Dress well and Collect your 5marks. Now, I want to make a sound warning to you all: Don't say because you did your I.T in a company, with different functions. So you must put everything you learned in your report. Without being able to explain one well.
I learned a lot about 10 different things. But I purposely wrote 5 things in my report & give a detailed explanation on the 5 very well. So when I was defending. I knew my question will be based on the 5 I wrote on my report.
In addition, don't be a jack of all trades and Master of None. You can put the 10
..if & only if you can explain the 10.
Remember, you have limited time for the presentation. You can't put all this into consideration & give a detailed report on something significant & sharp. Your report should be straight to the point & sharp.
Moral lesson: when you're presenting. Don't say anything you will not be able to explain well in detail
I think that ends the I.T defense💥💥. If you follow this process🧐 your A remains unshakable✊🏻
No fear✊🏻.*
How many pages should a Siwes Industrial training report be?
An IT SIWES Report of about 25 to 40 pages is very ok. What matters most importantly is the content of the report and all the vital information about the training.
Finally, DOWNLOAD THE APPROVED IT REPORT FORMAT BELOW TO HELP YOU ON HOW TO WRITE AN INDUSTRIAL TRAINING REPORT
---
ALSO READ: Shell Undergraduate Scholarship Awards Scheme 2020
Please, Share this link to someone who needs it. Drop a comment too if you have any questions.
Having Questions? Leave a comment and we will attend to it. Share this post to your friends on social media by using the share buttons below.