Having Questions? Leave a comment and we will attend to it. Share this post to your friends on social media by using the share buttons below.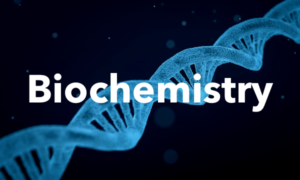 The subject combination for JAMB (Joint Admissions and Matriculation Board) in Applied Biochemistry typically includes Chemistry, Biology, and either Physics or Mathematics.
Biochemistry or biological chemistry is the study of chemical processes within and relating to living organisms. A sub-discipline of both chemistry and biology, biochemistry may be divided into three fields: structural biology, enzymology and metabolism. Over the last decades of the 20th century, biochemistry has become successful at explaining living processes through these three disciplines.
Almost all areas of the life sciences are being uncovered and developed through biochemical methodology and research. Biochemistry focuses on understanding the chemical basis which allows biological molecules to give rise to the processes that occur within living cells and between cells, in turn relating greatly to the understanding of tissues and organs, as well as organism structure and function. Biochemistry is closely related to molecular biology, which is the study of the molecular mechanisms of biological phenomena.
Much of biochemistry deals with the structures, functions, and interactions of biological macromolecules, such as proteins, nucleic acids, carbohydrates, and lipids. They provide the structure of cells and perform many of the functions associated with life.[6] The chemistry of the cell also depends upon the reactions of small molecules and ions.
These can be inorganic (for example, water and metal ions) or organic (for example, the amino acids, which are used to synthesize proteins). The mechanisms used by cells to harness energy from their environment via chemical reactions are known as metabolism. The findings of biochemistry are applied primarily in medicine, nutrition and agriculture. In medicine, biochemists investigate the causes and cures of diseases. Nutrition studies how to maintain health and wellness and also the effects of nutritional deficiencies. In agriculture, biochemists investigate soil and fertilizers. Improving crop cultivation, crop storage, and pest control are also goals.
he Bachelor's Degree in Applied Biochemistry is competitive. Knowing the prerequisites will enable you have seamless registration and also avoid unnecessary mistakes.
This page provides the following:
Applied Biochemistry O'Level Subjects and Requirements;


Applied Biochemistry Direct Entry Subject and Requirements;

Applied Biochemistry UTME Subjects Combination;

And other useful information that will enable you to make the right choices so that you gain admission to study Applied Biochemistry.
Please read the Applied Biochemistry programme admission requirements below carefully. If you meet the required prerequisites, you may proceed with your UTME/Direct Entry registration.
PLEASE NOTE: There are variations to the requirements listed below in some universities. In that case, it's advisable you make references to the PDF version of JAMB Brochure.
List of Universities Offering Applied Biochemistry
Nnamdi Azikiwe University – UNIZIK
UTME and Direct Entry Requirements:
Direct Entry Requirement for Applied Biochemistry:
Two (2) A Level passes in Chemistry and Biology or Health Science.
UTME Requirement for Applied Biochemistry:
Five (5) SSC credit passes in English Language, Mathematics, Chemistry, Biology and Physics.
UTME Subject combination for Applied Biochemistry:
Chemistry, Biology and Physics or Mathematics.
NOTE: Kindly make references to JAMB Brochure for remarks/waiver for Applied Biochemistry.
That's the much we can take on the topic "Applied Biochemistry Subject Combination for JAMB".
ALSO READ;
10 Study Tips on How to Learn and Understand Chemistry Easily
JAMB Subjects for Automobile Technology Education
Achieving Excellence in MBBS Exam Preparation and Success
7 Effective Tips for Passing an Exam Without Extensive Reading
Having Questions? Leave a comment and we will attend to it. Share this post to your friends on social media by using the share buttons below.