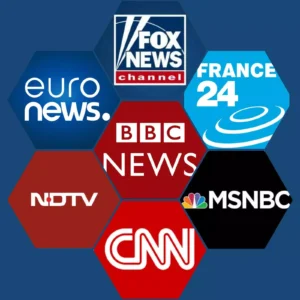 Staying informed about current events and global affairs is essential in today's interconnected world, and Popular News Channels Worldwide play a crucial role in delivering accurate and timely information.
Most Popular News Channels Worldwide: Nowadays, people spend less time reading journals and news pamphlets primarily because they have the option of simply reading captions of news. With the latter, a summary is provided via headlines and paraphrased forms for the listener/viewer. So the quickest way to learn any new update in our world today is most likely through a news channel. Any person can easily access different channels with different formats.
In this article, we will be discussing the most outstanding news channels that have managed to achieve global relevance with massive listening audiences. But first, let's look at what a news channel is in the first place.
What is a News Channel?
A news channel is any outlet that serves the purpose of broadcasting news updates, events, and daily highlights through television, radio, or the internet. Workers in these channels, collect every sliver of information around the earth and reintroduce it to the general public in the form of videos or audio. The processing of data happens in a television or radio studio by an independent producer or network.
The news channel has evolved into the most prominent means of sharing or broadcasting information to the world. Television programs can vary their focus. Some channels discuss international or national affairs, some focus on weather, movie promotion, celebrity news, or sports news, and some focus on regional or local matters.
READ NDLEA 2023/2024 Recruitment News
The content carried by the channel would depend on the focus of the channel itself. There are distinctions between different channels and the type of content they broadcast. Some channels concern themselves with national and international political news, while some lean towards more entertaining programs.
Most Reliable/Best News Channels in The World 2023
There are thousands of channels and networks around the world, but here are some of the best right now:
1. Fox News: Popular for its slogan 'Fair and Balanced', Fox News is a transnational television network established by media company; Fox Corp in 1996. It has its head office in New York, as well as several studios across the city. With a deeply interactive 15-hour daily broadcast and some of the widest audiences on this list, it is only fair that they make the top of the list.
FX has a reach of over 85 countries across the globe and has been proclaimed the most-watched channel by the general public. Although some people consider the idea that they broadcast completely unbiased content rather fanciful, the quality of their extensive programs is laudable.
2. MSNBC News: At no.2, we have another American television network that broadcasts significantly diverse reports, commentary, and recent updates. It was created in the late 90s by media enthusiast; Tom Roger, but after a few runs, Microsoft made an investment of over 200 million for equally split stakes.
Due to this move, this channel was able to expand and broadcast live news across numerous countries, eventually earning the second spot among the most-watched TV channels.
3. BBC News: Created in the early 20s, BBC News is one of the oldest channels in the world. It is also the largest, employing over 3000 employers from different continents across different formats including radio, Television, and Internet platforms. Their reach is one of the most formidable considering the numerous formats they engage. It has its central office in London.
READ Local and Foreign Rice Prices in Nigeria: Cost of a Bag of Rice
The most interesting fact about this giant in news broadcast is that each country develops and broadcasts its local news and content. This way subscribers can have access to news and updates about their local environment through a reliable source like the BBC network.