Having Questions? Leave a comment and we will attend to it. Share this post to your friends on social media by using the share buttons below.
In the article, we have covered the UPSC preparation mistakes you should avoid. Read on for more insight and tips.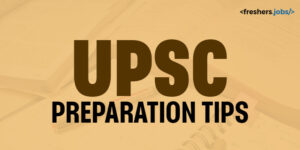 Mistakes you should Avoid in UPSC Preparation: Errors are inevitable in life, and they may occur more frequently while preparing for a challenging test like the UPSC Civil Services and the aspirants occasionally pay dearly for their errors.
The entrance to the coveted Indian civil services is the UPSC Civil Services Examination (CSE), usually referred to as the IAS test. Only a select handful of the lakhs of applicants who take the exam each year succeed. The CSE course is extensive, and applicants must learn a lot of material in order to pass the test.
There are a lot of students that apply for this test with the hope of becoming IAS officers and public officials, and with so much competition, there is very little to no space for mistakes because even tiny ones can have a significant influence on your final exam score.
Additionally, bear in mind that each application only has a limited number of opportunities to sit for the exam as it is only offered once a year. As a result, candidates should aim to avoid as many typical blunders as they can to increase their chances of passing the test. On that note, let's look at frequent UPSC mistakes in this post that the majority of applicants do and that you should avoid so as to succeed in the test.
Common Mistakes In UPSC Preparation
1. Lacking A Study Strategy: Not having a study plan is one of the worst mistakes you can make. Do not forget that failure to plan is planning to fail. You must have a schedule for your everyday activities as well as a strategy for your studies. Remember that you must spread out your preparation and develop good study, memory, and replication habits.
The IAS test preparation procedure is lengthy and demanding. Without a workable study strategy, it is impossible to imagine finishing the course material in the allotted time. Therefore, creating and following a solid study plan is crucial.
2. Not Having Clarity Of Syllabus: This error is quite typical. While the majority of candidates will read the syllabus, they won't take the time to truly understand it. Although you don't need to sit down and remember the curriculum, you should read it through so many times that you can connect events in your environment to the pertinent sections of the syllabus. This is essential for both taking notes and drafting responses.
3. Referring To Almost All Books When Preparing: Referencing too many books for one subject or topic can only create confusion and mayhem. There is nothing wrong with getting around the length of the UPSC curriculum, but it doesn't mean you have to read every book to prepare.
Reading books that aren't relevant is something you should avoid doing since you need to be careful to gather the proper knowledge.
Another common error individuals make is becoming a book collector. Aspirants continually add books to their library as each person offers a new book recommendation or list of books to read in order to prepare for the UPSC Exam. This is a serious error to make, particularly if you want to attempt to read all of those books. When choosing sources and figures to prepare for the UPSC, you must be very picky.
READ Tips on How to Start a Debate
4. Disregarding NCERTS: Ignoring NCERTS books when studying for the CSE test is one of the mistakes that many UPSC hopefuls do. The NCERT books are the most crucial books to study for UPSC preparation for the vast majority of these students since they not only serve as the fundamental texts that provide a solid grounding in the topic but also serve as guides for further reading.
They are likewise made by the National Council of Educational Research and Training, an independent body unit and a division of the Ministry of Education in the Government of India, and are extremely straightforward and simple to understand.
5. Making No Notes When Preparing: Quick summary notes are useful since they are simple to read and take less time. Having prepared notes on hand makes it easier to concentrate on vital subjects without wasting too much of your valuable time.
It is simpler for you to comprehend and remember a subject for a longer amount of time when you take notes in your own words. When you write concepts down, they become more understandable. However, few applicants really take notes.
6. Unnecessary Conversations: To improve logical thinking, you need to have debates that are useful, logical, and well-structured. Some students, meanwhile, go too far and engage in unnecessarily frequent conversations with everyone.
It is OK and highly advised if you engage in controlled conversations with a mentor or peers that genuinely enable you to contribute something to what you already know. However, you are squandering your time if you are devoting a significant portion of your day to casually debating locally or online solely to win disputes.
7. Not Writing Essays Regularly Early: Not practicing essay writing early on is another error you should avoid. Although many students begin practicing essay writing after passing the prelims exam, this is not a good strategy to use because you also need to concentrate on learning the subjects of options subjects, general studies, and language subjects so that you can write long essay answers in general studies papers and optional papers.
Writing essay answers is very important in UPSC because the main, which is the second stage of the exam, is all about essay writing.
READ Best Tips on How to Find your Passion
8. Excessive Internet Usage: This is a mistake that's simple to make in the age of the internet and unlimited bandwidth. We may thank technology for the fact that many people now prepare by merely viewing YouTube videos. It is okay to do that as long as you are applying a targeted strategy, studying while you watch, taking notes, and expanding your knowledge base for the UPSC.
Although it is simple to lose track of time and find yourself at the end of the day having accomplished little while watching a hundred pointless movies.
9. Avoiding Practice Exams/Mocks: Mock tests are essential since they aid in final exam preparation by assessing your memory and the effectiveness of your review, as well as assisting you in identifying your strengths and weaknesses in the subject.
It provides you with insight into your behavior under pressure so that you may emotionally and physically prepare for the final exam. Furthermore, passing mock tests might boost pupils' confidence. The simple things may really add up and aid in exam success.
10. Ignoring The Analysis And Solution Of The Previous Year's Test Questions: It is essential to read and complete question papers from prior years' exams in order to comprehend the pattern, topic, and trend of the examination paper. By doing this, you'll avoid unpleasant surprises on the exam itself.
The UPSC exam's format is quite ambiguous. You can never predict what will occur. Therefore, using concepts from previous exam papers is a great way to prepare for the current exam.
11. Feeling Anxious, Afraid, And Insecure: While studying for the UPS exam, many students lose faith in their capacity to succeed after understanding how difficult the competition is and how much reading and studying is required.
Your motivation for studying for the test must be crystal obvious to you, and that is the most important factor. A strong vision and purpose will motivate you to continuously study and will help you through the challenging exam preparation periods. You can also read a lot of books to enhance your confidence and increase your self-assurance, and watch a lot of interviews with students who went on to become civil officials for inspiration.
12. Leaving Out Revision: Candidates frequently neglect revision in an effort to cover the most material possible in the least amount of time. If you are unable to remember even one of the topics you have already studied, there is no purpose in continuing your studies.
Reviewing what has been examined is crucial. With time, people have a tendency to forget things, and the UPSC curriculum is no exception. The syllabus is extensive, labor-intensive, and complicated. Therefore, setting aside time for your revision is highly advised. But correction shouldn't be carried out carelessly.
Conclusion
When sitting the UPSC exam, stay away from these common mistakes to increase your chances of passing. As you get ready for your UPSC, concentrate on the task at hand. Never forget to occasionally evaluate your calendar to see how much time you are spending on each activity and whether or not it is actually benefiting you in your preparation.
ALSO VIEW 10 Lucrative Agricultural Businesses to Start
A Glimpse into Edo State Traditional Health Remedies for 2024
Having Questions? Leave a comment and we will attend to it. Share this post to your friends on social media by using the share buttons below.