Having Questions? Leave a comment and we will attend to it. Share this post to your friends on social media by using the share buttons below.
Nigerian Culture is well known for their tantalizing dishes and delicacies.  If you are looking for some tantalizing Nigerian Dishes for dinner or lunch, here is a quick list of 11 of the most delicious Nigerian Dishes for dinner.
The uniqueness of the food culture of Nigeria is basically connected to its cultural diversity. The different ethnic groups have their different unique meals this makes Nigeria an absolutely interesting place  to visit.
You do not need to be from a particular ethnic group to know how to make a particular meal.All you really need is to get the recipe and you are absolutely good to go. Click here to see Easy Nigerian Recipe.
So, let us go through the List of 11 Most Delicious and Tantalizing Nigerian Dishes for Dinner. Let me tease your taste buds.
NIGERIAN DISHES FOR DINNER
1. BEANS AND PLANTAIN:
This is number one on the list for a very obvious reason. Its my official favorite. Beans and plantain is a very famous meal in Nigeria and is usually enjoyed by mostly men.
Long but easy to cook, beans simply requires ingredients like tomatoes, fresh pepper, maggi, etc. The plantain can be eaten with the beans either fried or boiled along side your beans. Note that beans is a healthy  and rich source of protein. Beans can also be eaten with pap or bread.
2. YAM PORRIDGE:
The Nigerian Porridge is very easy to cook. Apart from yam, many other things can be added to it like potatoes, cocoa yam and plantain. Yam porridge is a healthy source of carbohydrates.
To cook a decent pot of yam porridge, all you need is some yam, onions, pepper, dried fish, vegetables, etc.
RECOMMENDED: Scientifically Proven Ways to Remember Better
3. RICE AND STEW
The most famous food in Nigerian history. Rice and stew is the major bachelor's food. It is easy and cheap to cook. Also, it is a great source of carbohydrates.
Adding vegetables like carrot, cucumber, green peas, etc to make your meal look more delicious. This is another of the delicious Nigerian Dishes for Dinner.
4. BANGA SOUP AND STARCH:

This is the official meal for the Urhobo Delta people. Banga Soup is made mainly with the use of Palm Nuts. It can be eaten with basically any swallow like Eba, Semovita or Wheat, but the official swallow that goes with this soup is Starch.
To cook this meal, you need someone with a very good recipe for preparing banga soup.
Recommended: How to prepare Banga soup and starch
5.  SPAGHETTI AND BEEF STEW:
Spaghetti is simply delicious! Very awesome meal for both Nigerians and Non-Nigerians too. Spaghetti can be served simply boiled or as jollof. Either way, you get your satisfaction.
All you need is a Spaghetti pasta, onions, pepper, dried fish, some beef, seasoning cubes, etc. The taste of spaghetti is usually dependent on the beef stew.
6. YAM AND SAUCE:
In addition, another of the Nigerian Dishes for Dinner is boiled yam and egg sauce. Also, tomatoes or other vegetable sauces.
Fast and easy to prepare. Best served when hot.
7. EBA AND EGUSI SOUP
My favourite soup is actually egusi soup. Egusi is usually eaten with Eba and other swallows like Semovita, wheat, etc. Egusi is very rich in protein and vitamins.
For best results, prepare with pumpkin leaves and dried fish.'
8. PARTY JOLLOF: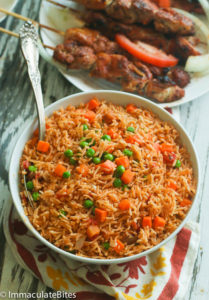 There is still a great war between Naija Jollof and many others. In terms of which is better. For me, Naija jollof is simply outstanding. It is the official food for most Nigerian parties. That is why is is called party jollof.
Basic ingredients for Naija Jollof are
Rice
Tomato sauce
Beef or chicken
Seasoning cubes
Vegetable oil
vegetables, etc.
9.CHICKEN OR FISH BARBECUE AND SALAD
If you need more or less a light meal for dinner, barbecue and salad is an option for you. Delicious barbecue is usually sold by street vendors in Nigeria at very affordable prices. Also, if you have the necessary equipment, you can do this in your own house.
In addition, barbecue is very delicious and keeps you in a finger licking mood. I love chicken barbecue above any other.
READ ALSO: Why Most Businesses Fail (How to Avoid Failure)
10. CHIPS AND SAUCE
Potatoes, yam and plantain are the best bet for this meal. It is best eaten with  some tomatoe sauce and a chilled drink. This is the regularly sold chicken and chips at eateries.
11. PEPPERSOUP
Lastly, we have PEPPERSOUP. The beauty of the Nigerian peppersoup is that it can be prepared in so many ways.
There is Yam peppersoup, goat meat peppersoup, catfish peppersouop, etc.  Peppersoup is a very delicious and tasty nigerian meal but is rarely cooked in Nigerian homes, except on special occasions.
I hope I teased your taste buds with this post on Nigerian dishes for dinner. Do well to drop a comment below in the comment section and share to someone to also trigger and tease their taste buds.
Having Questions? Leave a comment and we will attend to it. Share this post to your friends on social media by using the share buttons below.