Having Questions? Leave a comment and we will attend to it. Share this post to your friends on social media by using the share buttons below.
Whether your ambitions are set on undergraduate or graduate programs, understanding the details presented in "Brown University Admissions" is the first step toward realizing your educational goals.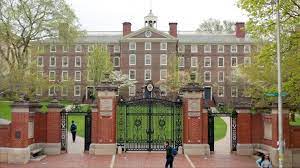 Brown University is one of the prestigious university of USA, ranking in the top 20 national universities by U.S. News. Brown University offers 2,000+ programs split into undergraduate, graduate and doctoral degrees. At university, students are given the opportunity to study abroad in 75+ countries through study-abroad programs. Brown University campus currently houses students from over 63 nations who speak 69 languages. The total student population of the university is over 10,000. Admission at Brown University is extremely competitive with an acceptance rate of only 8%. Students with a GPA equivalent to 92% hold a higher chance of getting selected.
Brown University cost is approximately 66 lakhs including tuition fees of 51 lakhs and living expenses of 15.45 lakhs. 100% of students with financial needs receive scholarships from Brown University. 43% of students of a class of 2023 received scholarships and other need-based aid. Along with that, the university provides career assistance to the students, providing them internships and on-campus interviews with many top companies. Some of the top employers are Amazon, Silicon Valley Bank, Barclays, PUMA group, The Boeing Company, Apple, etc. Technology and Finance are the most employed industries.
Brown University Rankings
Brown University rankings are done by many prestigious organizations like QS, THE, U.S News etc. Some of the world rankings accrued by the university are as follows.
#63 in QS Global World Rankings in 2023
#14 by U.S. News and World Report in 2022 list of Best National Universities
#64 in the list of World University Rankings in 2022 by THE
#6 in US College rankings in 2022 by THE
#101 in US News Global Universities Ranking 2022
Brown University: College Comparison
The university is often compared with other universities of its same league. Check the below links for a detailed comparison between universities.
| | | |
| --- | --- | --- |
| Brown University vs Columbia University | Brown University vs University of California – Los Angeles | Brown University vs University of Pennsylvania |
| Brown University vs Johns Hopkins University | Brown University vs Yale University | Brown University vs New York University |
Brown University Programs
Programs at Brown University include 2,000+ Undergraduate courses, 33 master's degree programs, 51 doctoral programs are offered across university schools and colleges. Students are given the opportunity to study abroad in 75+ countries through the study-abroad program.
The engaged Scholar program is also available for students who are passionate about communities to design courses of study and action.
Popular majors are Computer Science; Biology/Biological Sciences, Engineering, Econometrics, and Quantitative Economics.
Academic programs at Brown follow a flexible and rigorous open curriculum.
Professional and executive programs are available in fields like cybersecurity, business, healthcare, leadership, and technology.
Professional certificates are available in a plethora of fields.
It also offers two certificates, pre-college programs for ambitious high school students, and no-cost, no-credit online courses to students across the globe.
Some of the top programs at Brown University with fees are tabulated below.
Brown University Top Programs
| TOP PROGRAMS | TOTAL FEE PER YEAR |
| --- | --- |
| Master of Science [M.Sc], Data Science | INR 54,82,341 |
| Master of Science [M.Sc], Computer Science | INR 56,49,337 |
| Master of Science [M.Sc], Innovation and Entrepreneurship | INR 54,82,341 |
| Master of Science [M.Sc], Medical Sciences | INR 46,94,102 |
| Executive Master of Business Administration [E.M.B.A] | INR 1,06,94,700 |
| Master of Science [M.Sc], Electrical and Computer Engineering | INR 32,57,843 |
| Bachelor of Science [B.Sc], Electrical Engineering | INR 46,94,102 |
| Master, Innovation Management and Entrepreneurship Engineering | INR 46,94,102 |
| Master of Science [M.Sc], Biomedical Engineering | INR 43,43,791 |
| Master of Science [M.Sc], Biotechnology | INR 46,94,102 |
| Bachelor of Science [B.Sc], Mechanical Engineering | INR 46,94,102 |
| Bachelor of Science [B.Sc], Biomedical Engineering | INR 46,94,102 |
| Master of Science [M.Sc], Chemical and Biochemical Engineering | INR 46,94,102 |
| Bachelor of Science [B.Sc], Biophysics | – |
Brown University Campus
The Brown University campus is located at College Hill which is in Eastern Providence. The campus consists of over 200 buildings including Nelson Center for Entrepreneurship, libraries, research centres, laboratories, residential buildings, administrative buildings, etc.
Providence is a vibrant place to live, study and work. It is a hub for innovation and rich in cultural diversity.
Brown partners with high-stake organizations, schools, civic and non-governmental organizations and businesses to foster innovation and advancement in research.
University community consists of students from over 63 nations and speak 69 languages.
There are 34 Division 1 Sports Teams, 34 club teams, 20 intramural teams.
Each year, 1,200+ students participate in Swearer Center community engagement programs.
To facilitate movement on campus, there are bicycles, shuttle buses, carpooling, Zipcar, etc are provided on campus.
Brown University Accommodation
100% of first-year students and 74% of all undergraduates live on campus. All undergraduates are required to live on-campus for a minimum of six semesters, except for married students, the Resumed Education Program students, and local students living with parent(s).
There are 49 residence halls on campus that are all co-ed and smoke-free.
All rooms are furnished with the following items; bed frame, mattress, couches, chairs, a desk and desk chair, bookcase, closet, a trash can per occupant, Wi-Fi, etc.
A limited number of one-bedroom and two-bedroom apartments are available on campus for graduate students.
Meal Plans are available for on-campus and off-campus residents, including graduate and medical students.
University features two all-you-care-to-eat dining halls, three coffee carts, four campus restaurants, and two convenience markets.
Special Interest housing on campus offers students the chance to live and learn with others of similar interests.
Undergraduates who have spent more than 6 semesters and graduates who wish to live off-campus are required to apply for permission to live off-campus.
The housing cost for 2023 per semester is mentioned below.
| OCCUPANCY | COST (INR/SEMESTER) |
| --- | --- |
| Double occupancy | 3.52 lakhs |
| Triple occupancy | 3.30 lakhs |
| Quad occupancy | 2.67 lakhs |
Explore: Housing in USA!
Brown University Admissions
Brown University invites both domestic and international students for admission 2023. It has an early decision deadline on November 1 and a regular decision deadline on January 5. Prospective students for Brown University admission 2023 may check the application process and acceptance criteria in the below sections.
Brown University Acceptance Rate
The university currently houses more than 9,500 students in both undergraduate and postgraduate programs. As per Brown University admission records, there are 2,557 students studying in graduate programs in the class of 2026. As for the undergraduate programs, the student population is 6,792. Brown University acceptance rate is 8% indicating tough competition for admission.
Brown University Application Process
Brown University application process is more or less similar for both undergraduate and graduate students. International students are required to submit some additional requirements to secure admission.
Application Portal:
Undergraduate Application: Common Application Portal
Graduate Application: The Graduate Application portal
Application Fee: 75 USD (5,992 INR) for UG | 90 USD (7,190 INR) PG
Undergraduate Admission Requirements:
Official transcript
School Report
Midyear School Report
SAT or ACT scores
English language proficiency
GPA score: 3.7/4.0 ~ 90-92%
Counselor Recommendation
Postgraduate Admission Requirements:
Academic transcripts
GMAT/GRE scores (not required)
English language proficiency test scores
Essay
SOP for US
Letters of recommendation to study in US
Resume
Brown University Cost of Attendance
All the prospective candidates of the institute must plan their finances in advance. Brown University cost of attendance includes tuition fees and living cost for USA To aid the same, the cost of study for international students in US has been tabulated below.
| COST | AMOUNT (INR) |
| --- | --- |
| Tuition | 48.86 lakhs |
| Fees | 1.90 lakhs |
| Room | 7.30 lakhs |
| Board | 5.04 lakhs |
| Books | 1.01 lakhs |
| Personal | 2.10 lakhs |
| Total | 66.24 lakhs |
Brown University Scholarships
The institute offers various awards and scholarships for international students in USA. 100% of students who demonstrated financial need got financial aid from Brown University. 44% of the Class of 2023 received scholarships and other need-based aid. Scholarships available at the institute are –
Zuckerman STEM Leadership Program with varying worth.
USD Student Scholarship worth 2,000 USD.
Fulbright Scholarship with varying worth.
Financial aid is not awarded based on academic achievement, athletic ability, or any other form of merit. The total amount of aid for international students is limited. Brown University has an initiative called Brown Promise, which has eliminated all the packaged loans from financial aids.
Brown University Notable Alumni
Brown University alumni network connects 110,000+ members across the globe. Brown University presents a number of benefits to its alumni and urges them to keep connecting with the university. Some of the benefits that the alumni are entitled to are –
Access to career tools like job opportunities, career tests and university resources.
Discounts on insurance policies and credit cards from Bank of America.
Access to library and magazines
Free access to Rosetta Stone (to learn any of 30 languages)
Brown Travelers, to around the world on educational adventures with fellow alumni and Brown faculty.
Library Eresources for free access to online journals, books, newspapers, and more.
Access to Maddock Alumni Center
Some of the Brown University notable alumni are –
Emma Watson – Actress (known for the role of Hermione Granger)
John Krasinski – Actor
Anant Ambani – Indian businessman
Akash Ambani – Indian businessman
Julie Bowen – Actress
Brown University Placements
The University has a career lab to guide the graduates along their career path. Brown Connect helps students to find internships and research opportunities. Career Education provides counselling and resources to encourage the students to select jobs according to their interests. The university recruiting team hosts career fairs, spotlight programs, coffee chats and also on-campus interviews.
Employment rate of Brown University hovers around 70%. Financial, Bank and Technology sectors are the top recruiters of Brown graduates. Companies like Bank of America, Goldman Sachs, Amazon, Apple, Google, IBM, Microsoft, Deloitte, Accenture and many others are interested in recruiting students from Brown University.
CareerLAB, the Center for Careers and Life after Brown is accessible to students to develop their career path for a successful life even after graduation. Popular employers of Brown graduates are Amazon, Silicon Valley Bank, Barclays, PUMA group, The Boeing Company, Apples, etc.
ALSO READ:
Top 12 Time-Honored Universities in the United States
Georgia College and State University 2023/2024 Admission
Top Universities in Anguilla | Best Universities to Study in Anguilla 2023/2024
Root Causes and Remedies for Child Trafficking in Nigeria
Having Questions? Leave a comment and we will attend to it. Share this post to your friends on social media by using the share buttons below.